File Name: bod_lib_on_foot_focused
Studio: Bondage Liberation
Featuring: Dart_Tech, Elise Graves
Format: MPEG-4
File Size: 516 MiB
Duration: 22 min 3 s
Resolution: 1280×720 (16:9)


I love feet, especially feet that have a nice, curved shape to them. Soft feet with cute toes. I love how strong feet are, and yet so sensitive! This makes feet the perfect target for torment in my opinion. They are strong enough to handle a lot of pain, and yet are sensitive enough to really feel it! Dart has cute feet – and I happen to LOVE making him suffer! Naturally I was drawn to making his feet suffer, so I secured his feet to the sturdy articulating arm of the Serious Bondage optometrist chair. Dart's feet were utterly at my disposal given that the rest of his body was securely strapped to the chair. I was feeling sadistic and knew that I wanted to make him suffer, therefore I stuffed his mouth with a dirty sock before tightly taping around his head. the result was a beautifully restrictive tape gag! I began my foot-focused session with rubber band snapping on his soles, before moving on to caning, nail digging, and electro torment with a very powerful electro box. I couldn't resist including his ball sack in with the electro torment, and as it turned out, I think the clamps themselves were the worst part of his entire ordeal! It's fun experimenting on friends!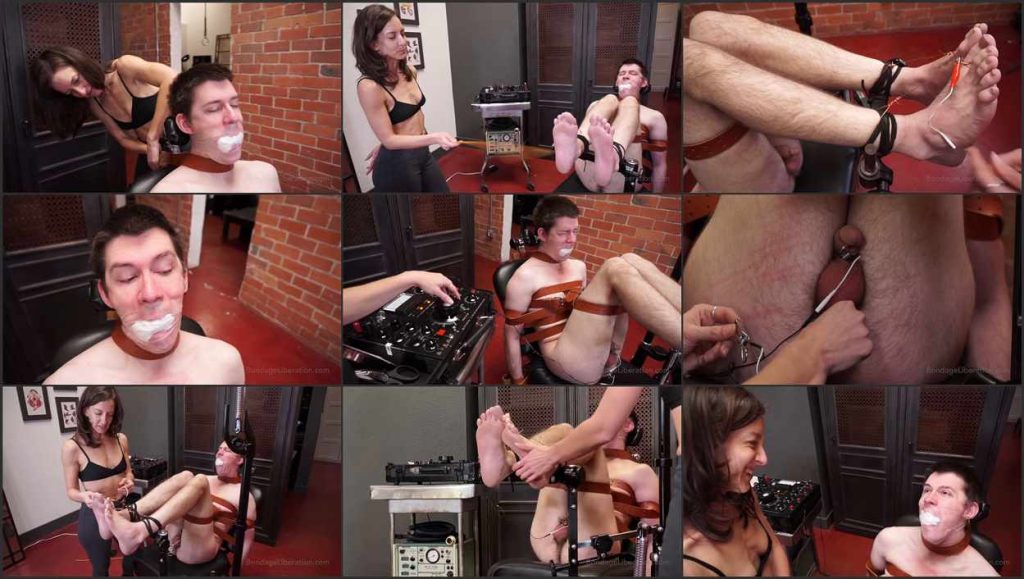 (Visited 270 times, 1 visits today)