File: ms_an_el_reminding_you_that_youre_mine.mp4
Size: 1.23 GiB
Duration: 11 min 14 s
Format: MPEG-4
Video: 1920×1080 (16:9) at 50.000 fps
Audio: AAC LC at 192 kb/s 2 channel(s), 44.1 kHz

Bent over and restrained to my bench, my slave is in need of discipline. He needs reminding of his place on a regular basis so he doesn't get ideas above his station. His place is, and always will be to serve me.
I circle my subject; wearing sexy high heels, black fishnet lingerie, stockings and seductive red lips. The sound of my heels striking the floor builds my slaves' nervous anticipation. I begin by mocking his now impotent locked cock before moving onto the main event – punishing his backside for my sadistic desire.
I take time in selecting my first weapon of choice for the warm up; a thick leather paddle should ease him in relatively gently. I stand in front of him, his nose just millimetres from my perfect ass. This view should give all the encouragement needed to endure this punishment for me.
I start layering the paddle strokes onto his ass, giving even and repetitive blows. My slave is struggling already and this is just the warm up! Every time he cries out; I laugh. His suffering is an utter delight to hear.
I get such enjoyment from seeing an unmarked bottom turn crimson. I intend to make this slaves' place known, once and for all. A cruel smirk comes across my perfectly painted red lips, I can't hide my enjoyment at his demise. His bottom feels red hot but this isn't going to stop me, I think we need something more substantial to continue.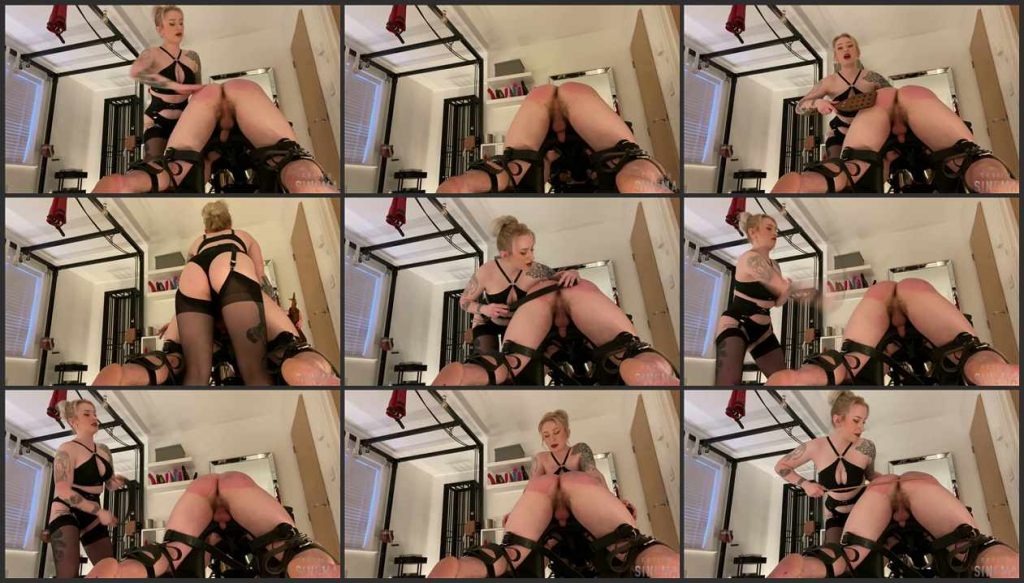 (Visited 309 times, 1 visits today)