File Name: bod_lib_on_stay_the_night
Studio: bondageliberation
Featuring: HeavyBondage4Life, Elise Graves
Format: MPEG-4
File Size: 298 MiB
Duration: 21 min 38 s
Resolution: 1280×720 (16:9)


Heavy has been spending the night at Elise's more and more often. You'd think he'd know the routine by now: Elise decides when it's time for bed for Heavy. She inspects his cock to ensure that it's locked in its little cage. Not that Heavy would even be able to touch it, as Elise immediately ushers him into a small, cramped metal cage with only his head sticking out. His hands are secured into leather mitts and tied to the sides of the tiny cage. His caged cock and head are on display for Elise to entertain herself with. For its Elise's bedtime as well, although her routine looks much different from Heavy's. After storing Heavy in the cage and brushing his teeth, Elise begins to attend to her own needs by vibrating herself to multiple orgasms in her panties and a nightie. The slimy wet panties are taped tightly into Heavy's mouth – after all, Elise is going to bed and wants silence. Heavy has a very intimate view of Elise's antics and is tormented by how close his tongue is to her pussy – and yet, so far! So hot!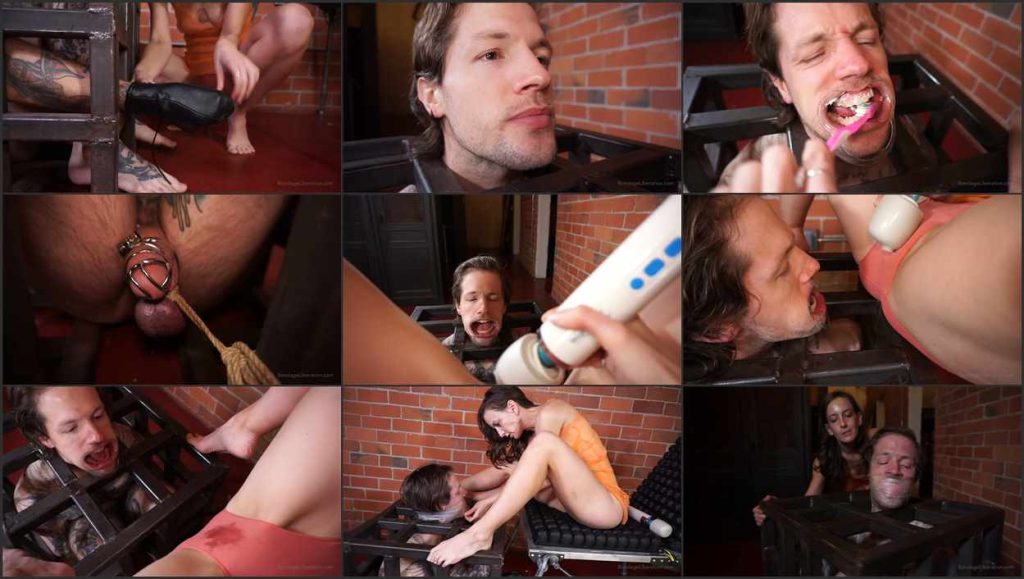 (Visited 314 times, 1 visits today)